C'mon in!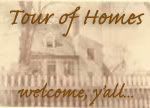 Welcome to my home. Shall we start at the front door? The very "door hanger" that you see on the door knob is the same one that greeted me when I returned from my trip to Alabama. It was made by my five-year-old out of my raffia and some black ribbon.

She also made the object hanging in the window. (See close-up.) Our front door says everything there is to know about the people who live behind it: 1) we're nothing fancy, 2) we love Jesus, and 3) KIDS LIVE HERE!







This next picture is my kitchen. My favorite part is the refrigerator - covered with photos of friends and family as well as the kids' art work. This is how I LIKE my kitchen to look, but that doesn't mean it always looks this good. (Yes, this is good, to me.) If you want to see it "in action," click here. The table in this picture is a blessing. It was free. And it was given to us right around the time that we really needed a bigger table, but couldn't really afford one.

The next photo is of our AWFUL kitchen floor. Way back when, we installed new cabinets and painted the kitchen. The floor was next on the list of things to be replaced.

(Which is why I didn't care about spilling all that yellow paint on it.) But, God had some other plans for us. Her name is Bethany. And, when we decided to adopt her, any money we would have spent on the floor went toward the adoption expenses. But, as I have told many people before, I honestly don't wish for a new floor anymore. Why? Because it is my daily reminder that people are more important than stuff - and that following God makes for blessings far beyond anything I could plan for myself.


This is where I do my blogging. I usually have my feet up on the couch that you can see just to the left in the photo. (No wonder my back hurts...) Also on the left, hanging on the wall, you can just barely see another bit of my daughter's art work. (Yes, it's everywhere.)

As for the cleanliness of the desk, I will admit to throwing away my McFlurry cup before I took this. But, really, this is one of those spots that I don't even want to think about cleaning up. See that stack of papers on the top, left side of the desk? It includes our taxes, and all of Bethany's official adoption papers. Yeah, this isn't the kind of mess I can just drop into the trash with one sweep of my arm.... though I would if I could.

Here is our living room. Nothing too exciting here. We don't have a playroom, so this is where most of the toys are stored, as you can see. Regarding the entertainment center, I think that spot for the TV is hilarious. People come over and say, "you really need a bigger TV." And I think, "we really need a smaller entertainment center!"

And, one thing I thought you might like to see - my PEZ collection.


What, you thought I was kidding?

If you want to see some other photos from my house, check out this post in which I chronicle some of my housekeeping exploits. Before and after photos abound.

Thanks for stopping by. Y'all come back now, ya hear?

Labels: Blog Carnivals