We're Having a Party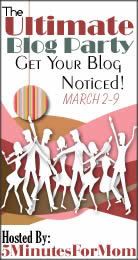 So, mister, mr. d.j.
Keep those records playing
Coz I'm having
Such a good time,
Dancing with my baby

We're having a party
Everybody's swinging
Dancing to the
music
On the radio.....
Welcome to my blog. My signature looks like "Lou" and nine times out of ten I type my name "Loir," but my actual name is Lori. I also go by PEZmama because I like to keep my readers as confused as possible. If you want to know how I play the blogging game, you can read about my blogging personality
here.
You can also see a picture of me
here
, and read an alarmingly inane post while you're at it.
What you will find "rattling around" this blog is a whole lot of drivel, a little bit of humor, even less insight, and an appalling number of sentences that begin with a conjunction. So, if you were looking for a cool blog, you have come to the
wrong place
. If, however, you want to get to know an average Joe, or an average "Lou" as it turns out, then have I got a blog for you.
Now, let us dispense with the trivial introductions and get on with the banality that is my blog:
Smoothies
are on tap. Grab one and go join a conversation. I've invited all kinds: the
nerdy
, the
spiritual
, the
goofy
, the
uncool
, the
down
, the
quirky
, the
getting-it-togethers
, and the
not-quite-theres
. If you don't have fun with one of those groups, you might need to find another party.
And they're all listed
here
.
Enjoy yourself. And thanks for stopping by.
Labels: Blog Carnivals